Is K-Laser an options for your dog or Cat?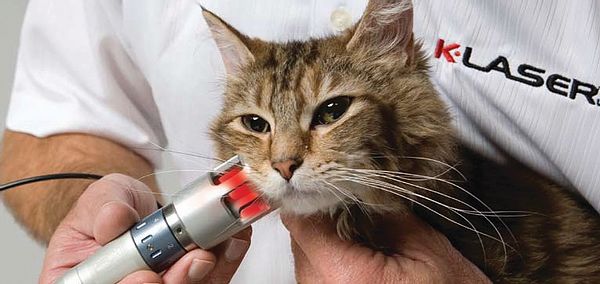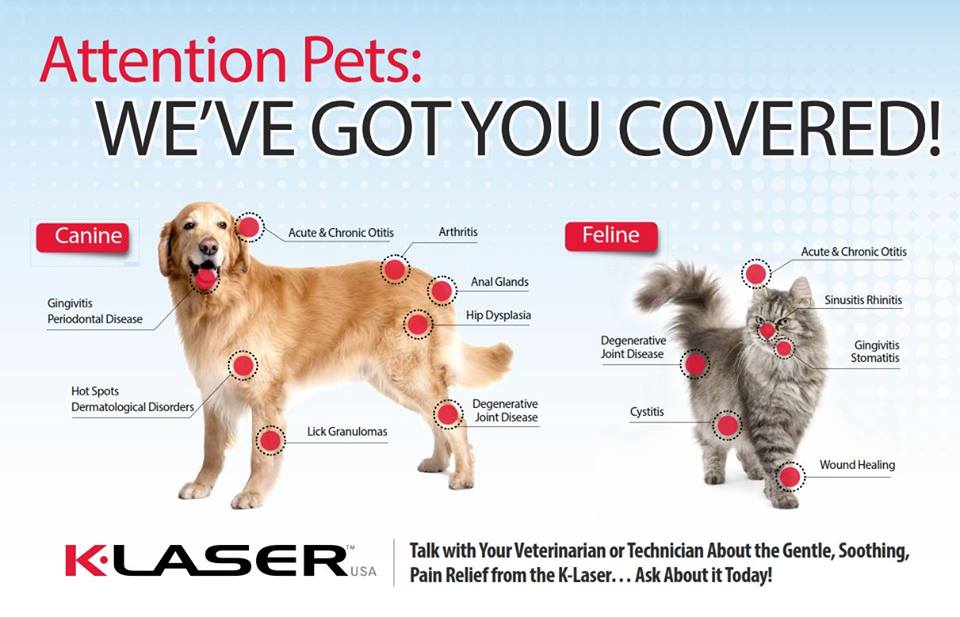 What is K-Laser Therapy? You may have heard of laser therapy for humans but did you know it's also available for you furry friend? Here at Foxmoor Animal Hospital, we offer the state of the art K-Laser therapy for your cat or dog. K-Laser therapy is a drug free alternative used to relive many symptoms found in your pet caused by inflammation, arthritis, tendonitis and many others. It can be helpful in addressing inflammation, improving nerve function, promoting healing and reduce scarring, and treating pain from arthritis.
According to K-Laser's website, K-Laser Therapy "is an FDA cleared therapeutic treatment that manages pain and inflammation while accelerating tissue regeneration. Laser energy increases circulation, drawing water, oxygen, and nutrients to the damaged area. This creates an optimal healing environment that reduces inflammation, swelling, muscle spasm, stiffness and pain." Simply, specific wavelengths of light are utilized to create therapeutic effects.
In addition to the above benefits, a big advantage of Pet K-Laser Therapy is in reducing discomfort in dogs and cats suffering from conditions that limit the use of medications, such as some heart and liver diseases. K-Laser Therapy also complements other treatments and can be used when paired with other pain management techniques such as acupuncture, massage, supplements and, if tolerated, medication.
If K-Laser Therapy is recommended for your pet, it is important that the treatment be given by a trained veterinarian or technician. Many different factors go into calculating a treatment plan. Although home kits are available for purchase, when used incorrectly or over used, these kits can cause more harm than good. In addition, an untrained pet owner may not know what conditions should not be treated with Pet K-Laser Therapy, such as pregnancy and tumors.
Visit us at Foxmoor Animal Hospital to learn More
If your pet is experiencing discomfort, you may want to find out if they can benefit from K-Laser treatments. Contact us at Foxmoor Animal Hospital to make an appointment today. Our friendly and caring staff will evaluate the best options to alleviate pain, inflammation and other uncomfortable conditions in your dog, cat.